Yuhki Kamatani (鎌谷 悠希 Kamatani Yuhki, born June 22, 1983) is a Japanese manga author and illustrator from Hiroshima, Japan. They are best known for their debut manga Nabari no Ou (隠の王 Nabari no Ō), which was published in Square Enix's Monthly GFantasy magazine from 2004 through 2010.
In 2012, Kamatani came out as
X-gender and asexual "sexual minority"
on twitter
[1]
, and has since included "/toX" on their twitter profile. Many of their works, most notably
Shimanami Tasogare,
Kamatani's most recent work which follows the story of an LGBTQ community in Onomichi, address LBGTQA themes and issues.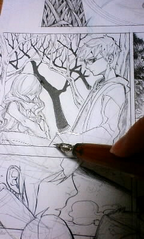 Kamatani's Nabari no Ou was a finalist under the Story Manga division in the ninth Japan Media Arts Festival in 2005, and was ultimately recommended by the Committee. In 2013, their manga Shounen Note: Days of Evanescence was a Jury Selection for the 17th Japan Media Arts Festival.
Kamatani worked with J.C.Staff to create a twenty-six episode anime adaptation Nabari no Ou, directed by Kunihisa Sugishima. The series premiered in Japan on TV Tokyo on April 6, 2008. The episodes subsequently air on other TXN networks, including TV Aichi and TV Osaka. Nabari no Ou is Kamatani's only series to be adapted into an anime.
The first volume of Nabari no Ou was released in English in May of 2009 by Yen Press, and is Kamatani's only manga to receive an official English translation.
Title
Length
Magazine
Year
Status
Nabari no Ou
14 volumes
Monthly GFantasy

2004 - 2010

Complete
Liberamente
1 volume
Monthly GFantasy

2005

Complete
Liricamente
Art Book
N/A
2008
Complete
Unitamente
1 volume
N/A
2008
Complete
Octave
Oneshot
Morning Two
2010
Complete
Shounen Note
8 volumes
Morning Two
2010 - 2014
Complete
-al fine-
1 volume
N/A
2011
Complete
Fill in the Blank (artist)
1 volume
Morning
2011
Complete
Garden of Children's Hearts
Oneshot
Self-published
2012
Complete
Busshi no Busshin
5 volumes
Gangan Online
2013 - /
Hiatus
Shimanami Tasogare
4 volumes
Hibana

Manga One

Ura Sunday

2015 - 2018
Complete
Touken Ranbu Online Anthology -

Hibana Chirase, Touken Danshi 

1 volume
N/A
2015
Complete
Touken Ranbu Online Anthology -

Touken Danshi Makuaigeki  

1 volume
GFantasy
2015
Complete
Touken Ranbu Online Anthology -

Hibana Mae, Touken Otoshishi 

1 volume
Big Comic Special
2016
Complete
Unlock (artist)
3 chapters
Morning
2017
Complete
Websites
Edit
Kamatani is a really big fan of Touken Ranbu . They frequently post photos of Touken Ranbu merchandise and pose plushes and mini figures in their photos on their twitter, and attend a lot of Touken Ranbu themed events. They have drawn a lot of fan art for it as well, and they also worked on a few of the Touken Ranbu anthologies.
Kamatani is also a fan of Tiger & Bunny and JoJo's Bizarre Adventures. They have drawn Raikou and Gau watching Tiger & Bunny in costumes based on the series and have drawn a lot of fan art for both series.
They have two cats and a dog
References
Edit