"
This one's Yoi. It's too confusing for them both to have the same name, y'know? Just one Yoite is enough.
"

–Yukimi on Yoi, Epilogue
Yoite (宵風,
Yoite
), later known as Yoi, is a kitten adopted by
Yukimi
in the later half of the series.
Appearances
Edit
Yoi is a black kitten with green eyes. After being adopted by Yukimi, he can be seen wearing a number of different cutesy collars, including bows, scarves, and a white collar with stars and with a large white flower attached to it.
Personality
Edit
Yoi is an extremely friendly and affectionate kitten, who seems to enjoy all the attention he gets from the people who meet him, which not even Shijima's dislike of him can discourage. He is also very curious and playful, but still very patient and well behaved.
He is very attached to and protective of Yukimi and Miharu.
Yoi and his mother were first discovered by Tsukasa Koudou by the side of the road inside of a small shrine, weak with malnutrition. Tsukasa is warded off by Yoi's mother, until Tsukasa returns to find them again, this time spotted by Yukimi, who intervenes and manages to remove the cats from their hiding place. The pair bring the cats to the nearest vet where they are treated, and after covering all their vet fees, Yukimi asks Tsukasa to take care of them in his place as he's only in town for business. Tsukasa's insistence on getting Yukimi's contact info leads to Yukimi learning about Yoite's past, and of his relation to Tsukasa.
Around a month after the Shinra Banshou is used to erase Yoite from everyone's memories, Yukimi finds himself adopting Yoi from Tsukasa on an impulse and a feeling that he "had to," and names him Yoite.
From that point on, Yukimi and Miharu bring Yoi with them almost everywhere they go together, especially on interviews. When they are unable to bring Yoi with them, he is most often left in the care of Hanabusa Seki.
When Yukimi is experiencing severe phantom pains, it is Yoi who finds Tobari and alerts him of this, leading him into the kitchen to find Yukimi on the floor in pain. This leads to Tobari asking Yukimi to watch over Miharu and to stay by his side.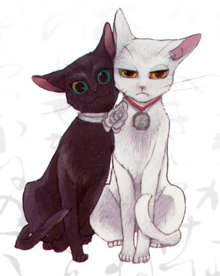 During the epilogue, Yukimi tells Miharu of how he has renamed him from Yoite to Yoi, due to the return of everyone's memories of Yoite.
Shijima is shown to dislike Yoi, as she does all other cats, but the sentiment is not reciprocal. However, Shijima is still shown to play with Yoi of her own accord, hinting that she may have grown to not dislike him as much as she tries to let on.
Yoi appears to be aware that Shijima is also Shiratama.
The polka-dot collar he wears in chapter 57 matches the polka-dot scarf Yukimi wears in the same scene.