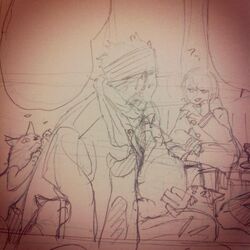 Vladimir Ilyich Popov (ウラジーミル・イリイチ・ポポフ) is a major character from Yuhki Kamatani's manga Shounen Note, who also plays a major role in their doujinshi Garden of Children's Hearts.
Appearances
Edit
Shounen Note: Days of Evanescence
Vladimir has platinum blond hair in a bob and blue eyes. In Garden of Children's Hearts, he wears an outfit reminiscent to that of a station master.
While he is an opera singer from Russia visiting Japan in his original story, Vladimir plays the role of a magical guardian to the memories held in children's hearts in Garden of Children's Hearts.
He has no magical abilities in Shounen Note, and has no relation to the story or characters of Nabari no Ou.