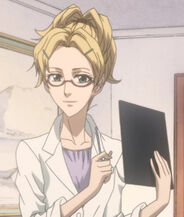 Kazuho Amatatsu (天立 和穂 Amatatsu Kazuho) is a 26-year-old member of the Grey Wolves Hijutsu Kenkyū-han, and Kazuhiko Yukimi's younger sister. She is voiced by Yui Kano in Japanese and Caitlin Glass in English.
Kazuho has shoulder lengthen blonde hair. She keeps her hair in a high pony tail with her bangs pulled back by green clips. She has blue eyes and wears a pair of red glasses. She has a short lanky stature. In the manga, her hair clips are shaped like fish.
Personality
Edit
Kazuho has a kind and bubbly personality. She loves her brother despite sometimes bickering with him. She sincerely cares about Yoite and takes any opportunity she gets to reach out to him and help him.
She has a medical license and acts as Yoite's personal physician. Despite her license, she is currently working in a sushi restaurant, owned by her husband. She is using her knowledge of the secret art to aid Banten in its extraction. Later on, both Yukimi and her defected from the Grey Wolves because the organization attempted to kill Yukimi and Yoite.
Community content is available under
CC-BY-SA
unless otherwise noted.