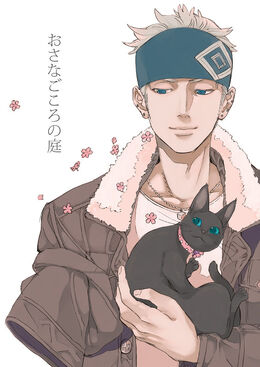 Garden of Children's Hearts (おさなごころの庭, Osanagokoro no Niwa) is a doujinshi created and self-published by Yuhki Kamatani for COMITIA102, in November of 2012 (11/18/2012), and was sold in limited quantity. The doujinshi was also available from animate stores for a short time after the event. This was Kamatani's first time attending COMITIA.
A sample of the doujinshi can be found on Kamatani's Pixiv.
A rough translation of the summary provided by Kamatani is as follows:
The story is set some time during volume 11. By the abandoned station in the mountains, Yukimi, who had gotten lost on the way to an interview with Miharu, finds himself in a mysterious world where cats, flowers, and "children's hearts" dominate... This is a story about Yukimi.''
Here, he meets Vladimir Ilyich Popov, who is acting as a guard for this dream world, and is questioned on what it means to grow up, and of forgotten memories.
Characters
Edit
Other characters who make cameos include: Tobari Durandal Kumohira, Black Durandal, Raimei Shimizu, Raikou Shimizu, Kourin Shimizu, Gau Meguro and his mother, Shijima Kurookano, Kazuho Amatatsu, and Yoite, as well as some other characters from Kamatani's other series Shounen Note.
Gau Meguro and Raikou Shimizu appear in the bonus 4koma provided with the doujinshi, along with an illustration of Yutaka Aoi and Midori Machiya from the same series as Vladimir.
The train from which Yukimi is taken appears to be the same train to which Yoite had brought Miharu in chapter 10.
The costumes Raikou dons and suggests for Gau to wear are references to Wild Tiger's original hero suit. Gau's is a reference to this costume, while Raikou's is a Barnaby version of the suit. The letters on the masks refer to sadist (S) and masochist (M). The movie mentioned is Tiger & Bunny: The Rising.
Community content is available under
CC-BY-SA
unless otherwise noted.