Nabari no Ou (隠の王Nabari no Ō, lit. Ruler of Nabari) is a Japanese manga series written and illustrated by Yuhki Kamatani . The series premiered in Japan in Monthly GFantasy in 2004 and the final chapter was released on August 18, 2010. Square Enix is also publishing the individual chapters in collected volumes with eleven volumes released as of June 2009. The series has been licensed for an English language release in North America by Yen Press. The first volume was released in May 2009.
Nabari no Ou was a finalist in the 2005 Japan Media Arts Festival and was a recommended title.
Plot Intro
Edit
Miharu Rokujo is a modern-day Japanese student apathetic to the world around him. One day, Miharu is protected from ninjas by Kouichi Aizawa and Tobari Kumohira, who are ninja affiliated with the Banten Village. He learns that his body carries the Shinra Banshou, a scroll within him that can grant his inner most desires and is the most powerful secret art in the ninja world of Nabari. Because the Grey Wolves, a faction associated with Iga village that wants to use the Shinra Banshou for their personal gain, will kill Miharu for the secret art, Miharu cannot return to his normal life. Although he wants nothing to do with ninjas, Tobari vows to protect him until he becomes Nabari's ruler.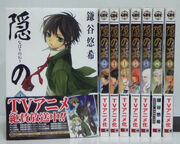 The manga series is written and illustrated by Yuhki Kamatani. It started serialization in the Japanese
shōnen
manga magazine
Monthly GFantasy
in 2004.
Square Enix
released the first volume on November 27, 2004 and, as of June 27, 2009, eleven volumes have been released in Japan. The manga has been licensed
by Yen Press for distribution in English in North America. The manga will be serialized in Yen Press' Yen Plus anthology magazine, the first issue of which went on sale on July 29, 2008. The first English volume of the manga was sold in May 2009.
An
anime
adaptation directed by
Kunihisa Sugishima
, and animated by
J.C.Staff
premiered in
Japan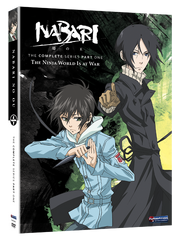 on
TV Tokyo
on April 6, 2008. The series aired weekly, with each episode subsequently airing on various other
TXN
networks, including
TV Aichi
,
TVQ Kyushu Broadcasting
,
TV Osaka
,
TV Setouchi
, and
TV Hokkaido
The series ran for a total of twenty-six episodes.
On August 19, 2008 Funimation, on the behalf of d-rights, sent cease and desist orders to the fansub groups who were subtitling the series, to prevent copyright infringement, although the company did not have licensing rights at the time.
On December 24, 2008, Funimation announced that they will be releasing the English dub of the anime in 2009. At Otakon 2009, the first episode was shown in English at a Funimation panel. The first DVD was released September 22, 2009.
The series made its North American television debut when it started airing on the FUNimation Channel March 29, 2010.
Community content is available under
CC-BY-SA
unless otherwise noted.